Seth is a college student currently attending Princeton University. Both him and Mouse are hardworking, A+ achieving students.
Seth is portrayed by Kyle Harris
Relationship with Mouse
Edit
Seth and Jill (Mouse) were in a relationship in Season One. He first appears in the episode Read Before Use, and it is said that Mouse is his first official girlfriend. Mouse discloses that prior to Season One, Seth took her virginity. Later on in the season, fearing that she isn't good in bed, Mouse, being recommended by Walt, watches an informative sex tape and
learns how to become better at sex. Using her newly learned skills, Seth is amazed and assumes that Mouse had been sleeping with another man, after which he admits that he had slept with two other women. Mouse lies and says that she slept with another man named Walt, but is initially hurt that he slept with the other women. Later on after intercourse, we learn that Seth becomes jealous of this "other man" that Mouse had been seeing. Mouse, accepting that he had slept with other people and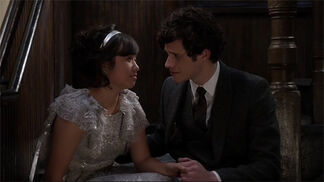 being okay with it, is angry at the double standard that Seth has imposed. Later on after an awkward encounter with Walt at the diner, Mouse angrily admits that she had not slept with another man, but even if she had, he had better be okay with it.
Later on in the season in the episode Caught, after failing to hand in an extra credit assignment, Mouse and Seth talk, with Seth and Mouse admitting that they both haven't been doing academically well since being in a relationship with each other. After both admitting that falling behind on grades aren't who they are, they mutually break up with each other.