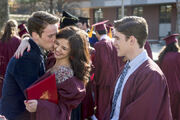 He came in as a man from the army. Maggie and her friends tried to rip up her forum that stated she was in the army. While attempting that they get caught by Pete. Pete decides not to send them to jail and as they are leaving he stops Maggie and asks for her name and number. After that they call each other pretty daily. From what Mouse says, we can assume they talk to each-other a lot.
Pete appears in the next episode, also. Mouse and Donna tell Maggie that she needs to avoid having sex with Pete. Maggie realizes that she easily mistakes sex for love. So during their date she does not dress properly, has onion breath, and invites Mouse to the date. Not to mention they don't even eat anywhere fancy like Pete had intended. Instead they eat at the regular hang out. Pete stops talking to Maggie which deeply upsets her. She goes to Mouse and is told to stop Pete and say whatever comes to her mind
Maggie is upset she will mess things up or not know what to say, but Mouse is confident she won't. Pete is about to leave when he is stopped by Maggie. She tells him about the advice from her friends and how she mistakes sex for love. Pete says he completely understands and tells her that he really likes her. Maggie is touched by this and admits she likes him too. After this they share a kiss.
He comes to Maggie's graduation. After graduation they go out to dinner. While Pete is in the bathroom, Maggie finds a girl's number in his pocket. She calls the number, and the girl immediately hangs up when Maggie tells her who she is. Worried and upset, Maggie confronts Pete about it in the middle of a Laudermaut. Pete tells her that it was one of his army friend's wife, saying that she works in a jewelry store and that he was getting her something special. Maggie initially says she doesn't believe him, asking where what he bought her is if that was truly what he was doing. He then pulls out a ring, gets down on one knee, and proposes to Maggie. Maggie gleefully accepts. 
Relationships
[
]
He is currently engaged to Maggie Landers.